TRAVELOGUE | Why You Should FLY Into Cambodia
We had been traveling around Southeast Asia for a few weeks when we decided to head to Siem Reap, Cambodia to check out the ancient city of Angkor. At the time, we were in Chiang Mai in northern Thailand. We already had airfare back to Bangkok and knew from there we could take a bus to the Thai-Cambodian border. But for the sake of saving time, we figured we should check out how much it would cost to fly direct from Chiang Mai to Siem Reap. Tickets were something like $170 per person; and since there were 3 of us and our friend Robert was covering all travel expenses, we opted to just fly back to Bangkok and bus in.
This would turn out to be a huge mistake.
The bus ride from Bangkok to the border town Aranyaprathet is about 6 hours. The ride was quite beautiful though and pretty comfortable, all things considered. We had read that once you arrived in Aranyaprathet you could walk across the border through customs and into a small town called Poipet. The travel guides didn't offer much information on Poipet except that there was a casino at the border and that a cab from there to Siem Reap would cost about $30 and take about 4 hours due to neglected road repairs. It advised to take an early bus, as the border closed at 9pm.
We arrived at the border at around 8:45pm. We literally jumped out of the bus and sprinted with hordes of other people to Thai customs, which we cleared pretty quickly. Between Thai and Cambodian customs is where the casino is, evidently nestled in a football field-sized lawless land. At this point we had about 7 minutes to get to and then through Cambodian customs. As we started jogging toward the customs office, we found ourselves surrounded by a pack of children. 
In our time in Thailand we became accustomed to children begging for food and money. So we weren't at all jarred by this pack, except that they were a bit more aggressive than the Thai children we were used to. We did our best to run through them and felt pretty successful until we made it to the customs office. As we made our way into the queue, we realized that these children were merely pretending to beg. In actuality, they were distracting us from the few kids who were behind us cutting our bags open with razor blades and stealing from us.
We only had about 4 minutes to get through customs though, and had no intention of staying overnight in between borders, so we called it a loss. The kids had gotten away with two cameras and hundreds of dollars. The biggest loss for all of us was the hundreds of photos we'd taken during our previous 3 weeks of travel. We pressed on.
Thankfully, we made it through customs just in the nick of time. Sadly, being the last 3 people into the country, most of the taxis were now gone. There was one taxi left, which Robert approached. As Robert began to haggle, I looked around at this town we had found ourselves in.
Poipet is something you reserve for bad Sally Struthers Feed the Poor commercials and war-torn movie sets. There's garbage everywhere, the buildings are literally falling apart before you. There are seemingly lifeloss bodies laid out amongst the streets, and cattle and naked children aimlessly roam around. I had never seen anything like it. There were hardly any lights, most buildings were lit by fire or candles. The whole town smelled like sewage and decay. It was devastating. You always know these places exist, but you never think you'll actually being standing amid it one late night.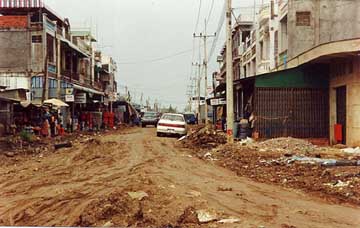 I returned to Robert, who was frustratingly trying to talk the lone cab driver down from $60 to $30. The driver knew he had us by the balls. There was no way we were going to spend the night in Poipet, and he knew it. Finally, Robert relented. That is, of course, until the driver asked for the money up front. We were pretty sure this was merely a ploy to demand more money at any point along the road. He argued that it was for gas, as his tank was on empty. After some discourse, we were able to agree on half up front and half at arrival. As we walked toward the trunk to unload our luggage, he shook his head quite firmly and said the trunk was full. So, we begrudgingly climbed into the sedan and rested our luggage on our laps.
The man we had haggled with then said, "Your driver speaks no English." He then smiled and walked away. A behemoth of a man, then approached from a dimly lit shack, silently got into the car and started the engine. As soon as I saw that the gas tank was in fact full, I knew we were in for a rough ride. And without a word, we drove off into the pitch black night.
The "highway" to Siem Reap is only about 50 miles, but takes 3-4 hours because it is almost entirely dirt road that has been largely ignored for the past 35 years. The streetlights are few and far between, and on several occasions the road actually runs through streams and sandlots. I've never experienced anything like it. Unfortunately, the road would be the least of our problems that night.
The "highway" to Siem Reap
After about twenty minutes on the road, our driver pulled off the "highway" and into the jungle. He pulled up to a small shack and without a word or gesture left us alone in the car and entered the shack. As he entered, a man with a large gun peered out the door.
"What the fuck is going on?" I looked back at Robert and Monique, wide-eyed. "The gas tank is full!"
"We know." Monique looked about as grim as I felt. 
"Our seats and floor mats are padded with something." Robert seemed almost amused by this. 
"Mine too. Do you think it's drugs?"
They both nodded yes.
"I have to pee."
"Well, we're stopped. Just pee behind that tree."
I would have rather have peed in my pants than exit the car at that point. Before I could say exactly that, the man emerged from the shack with something in his hand. He got into the car and handed me a brick of cocaine. He awkwardly smiled, then turned on the car and drove back to the highway.
This when we all realized we were only guised as taxi fares. In all reality, we were now drug mules. The trunk didn't have room for our luggage, because it was full of cocaine. And now I was holding cocaine. Our seats and floor mats were padded with cocaine. We were in the middle of jungle, in a third world country, in the dead of night, running cocaine along a dirt road into the city. 
My mind was immediately flooded with all the possibilities, none of which ended well. Kidnapping, murder, Cambodian prison, murder, robbery, murder. And I had to pee so bad.
The driver made two more stops and by 12am we were all holding bricks of cocaine. It was the scariest 3 hours of my life.
We arrived in Siem Reap at 1am, physically and emotionally exhausted. But, we were alive. Our driver pulled into a parking lot on the side of the road, put out his hand for his money, then peeled out leaving us there with just our bags and relief.